Special Offer[archived]
May.27.2011 / liveSite Release / 1 Comments
Add Chat to your liveSite for only $9.97/month!
It's time to take your online presence to another level, and WebsiteAlive has teamed up with Camelback to offer live chat for your liveSite website at an unbelievable price! Why pay setup costs and expensive monthly fees to premium chat providers when you can get the same advanced features for much less?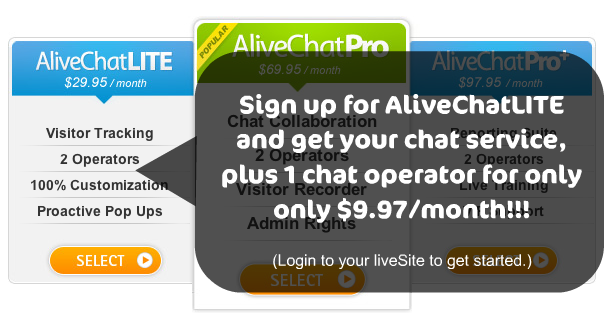 Offer good for the first 250 liveSite customers — so hurry!
Mobile Ready
Don't miss an opportunity even if you are out of the office! Chat with your website visitors in real-time through any mobile device! Free apps are included with your chat plan.

How it Works
You won't believe how easy it is to add chat to your liveSite! It literally takes only a few minutes to signup and start chatting. WebsiteAlive's chat services are already built into your liveSite software (v7.1+). No code to install or complex configurations to manage. But don't take our word for it, check out the video and see for yourself!
This tutorial video will take you through the simple steps to get signed up with WebsiteAlive and order the AliveChat plan that is right for you! Your plan will be discounted automatically when ordering through your liveSite Control Panel as instructed in the video.
NOTE: You don't have to have a liveSite Software Subscription to take advantage of this offer. It's available thru any liveSite Control Panel!
If you have any questions, please contact us.
Offer good for the first 250 liveSite customers — so hurry!