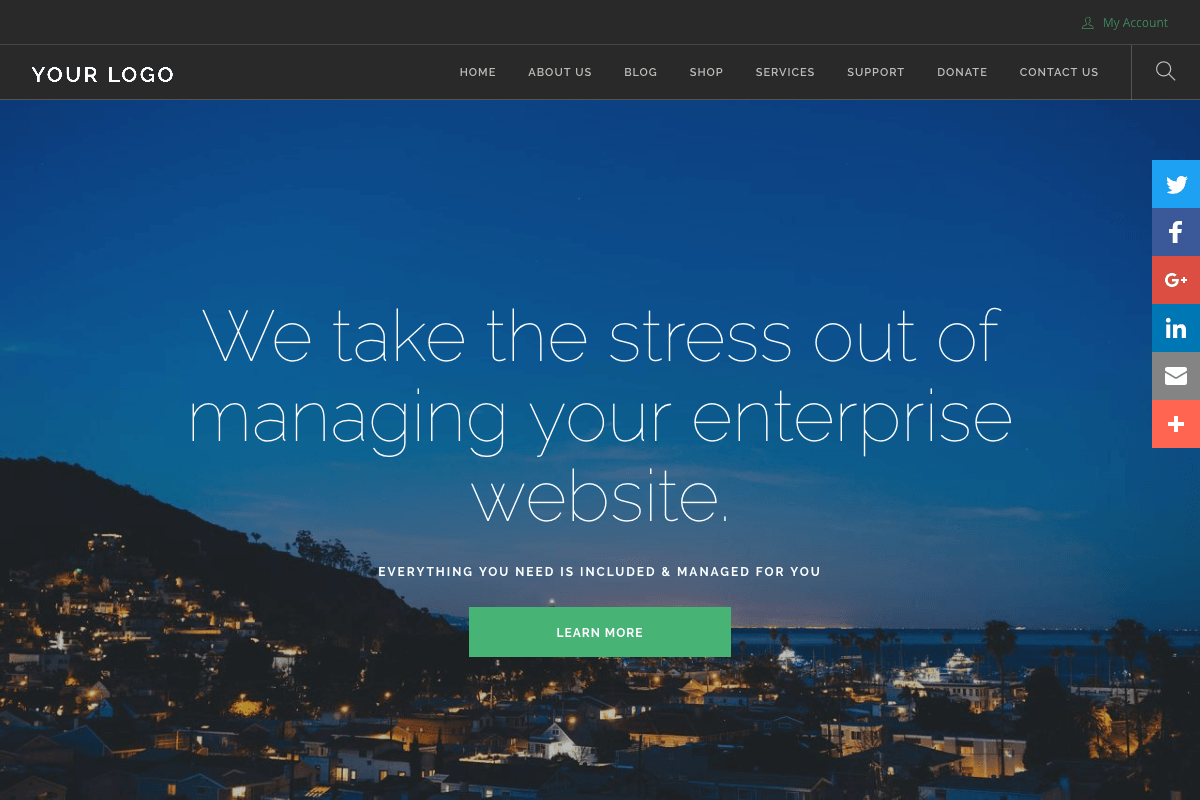 liveSite Hosting now running 2016.2
Aug.4.2016 / New Features / 1 Comments
We are happy to announce that the latest version of liveSite is now running on our production servers! liveSite 2016.2 is a continuation of our vision to provide an affordable, cloud-based, hassle-free website platform that web professionals can use to build, deploy, and manage beautiful, responsive, and powerful enterprise-ready websites.
As part of this vision, almost a year ago, we set out to completely separate the front-end HTML markup from the back-end application functionality to give web designers total freedom to style, position, and even hide application-level markup without the need to understand application or database programming.
The result is the creation of a new component in liveSite called 'Custom Layouts'. Custom Layouts provide total control over the presentation of liveSite's powerful application layer!
New Features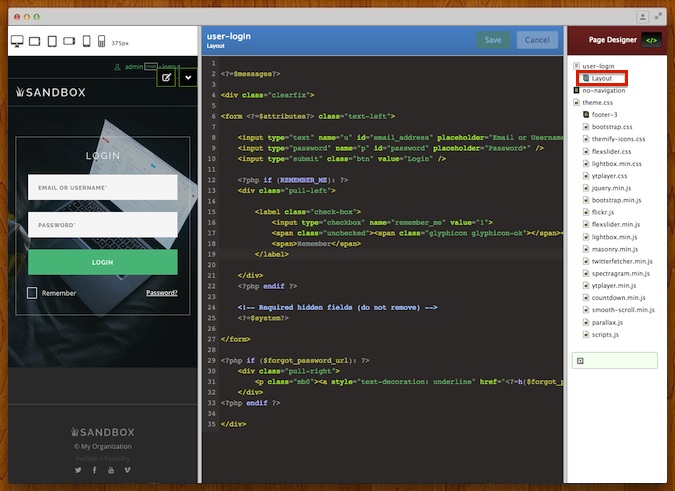 Custom Layouts
Custom Layouts provide access to the HTML markup of the core liveSite functionality within each web page. Custom Layouts are unique to each page based on the page's interactive features (Page Type). Want to rearrange your shopping cart page? Want to create multi-column custom forms? Want to customize your user registration page? Want to use your favorite Javascript plug-in for your photo galleries? Now you can! It amazing the freedom Custom Layouts provide web designers!
New Starter Site
To show-off the power of Custom Layouts, each new liveSite now comes complete with a fully-functional liveSite website — ready to go — so you don't have to start from scratch. This beautiful and amazing responsive site template includes a fully-customizable site theme, over 100 free stock photos, and hundreds of design elements and content blocks you can mix and match to create your own unique website. The design overlays over 30 common website applications across 180 page layouts you can also customize to fit your specific requirements. You can be up and running quickly simply by adding your own content to the pages you need and hiding the pages you don't need!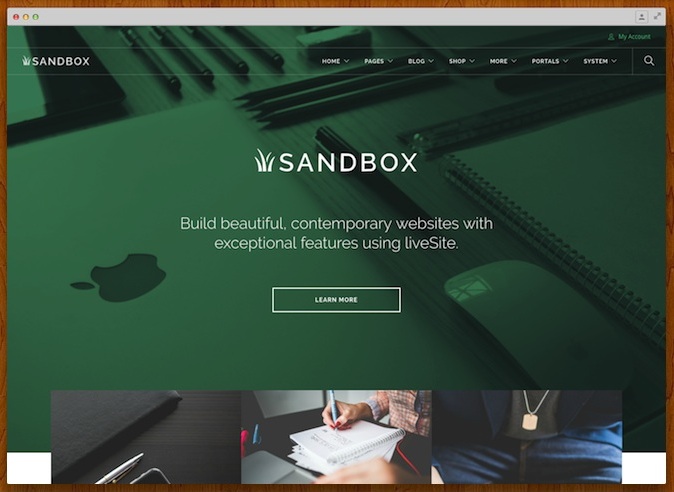 New Sandbox Site
A new Sandbox Site was created from the new Fast-Start Site so you can test and evaluate liveSite features and configurations without messing around with your own production liveSite. If you do accidentally change or delete something you need later, you can always go to the Sandbox Site and grab it.
'Save for Later' Forms
Now Custom Forms can be saved without being submitted. The submitter can return to the site at a later time to complete and submit the Custom Form. This is ideal for forms which cannot be completed and submitted during a single website visit. And to complete this feature, any workflow set up for the Custom Form will be triggered only after the form is eventually submitted.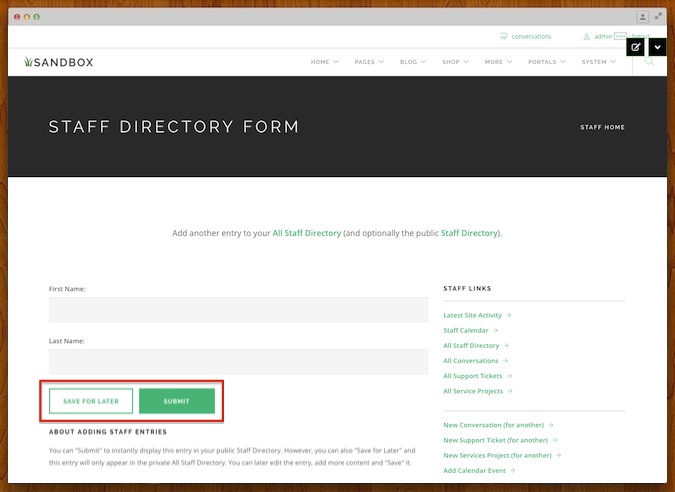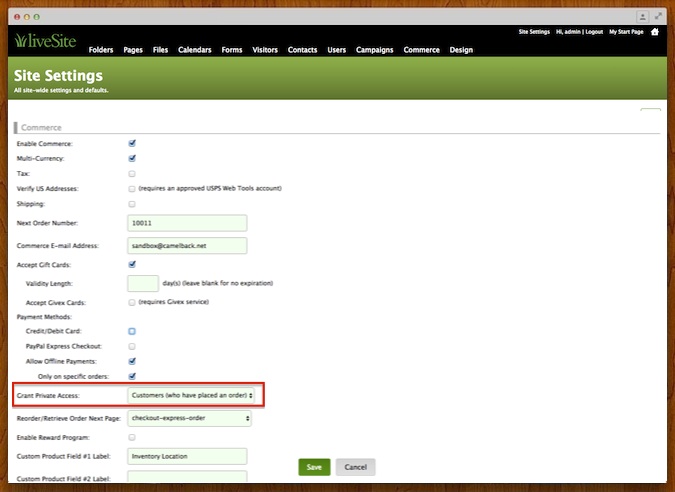 Customer-Only Portal
A new Site Setting grants access to a Private Folder whenever an Order is placed. This new setting provides a way for you to create a customer-only portal where you might place your customer support ticket app or other pages and files that you only want your paying customers to have access too. To provide instant access to this area upon purchase, the auto-registration feature has been updated to automatically login new users when their account is created. Together, these features make it seamless for a site visitor to place an order and go directly to your customer portal for downloads, protected information, or customer support.
Dynamic Search Fields
The Advanced Search feature of Form List Views is a popular way to assist site visitors with searching data views. In the past, search fields were 'fill in the blank' fields offering little in terms of what data might be available. This method works fine if the search field is a known value, like say a zip code, but not as well if the site visitor is unsure of the data values available to them. Dynamic Search Fields allow these blank text fields to be replaced with a drop-down pick list of available values, providing site visitors with all the available values.
And Dynamic Search Fields also respond to changes made to other Dynamic Search Fields so selections are further refined for site visitors as they make selections. This results in a great improvement in the site visitor's experience and helps them to zero in on the relevant information they are searching for much faster.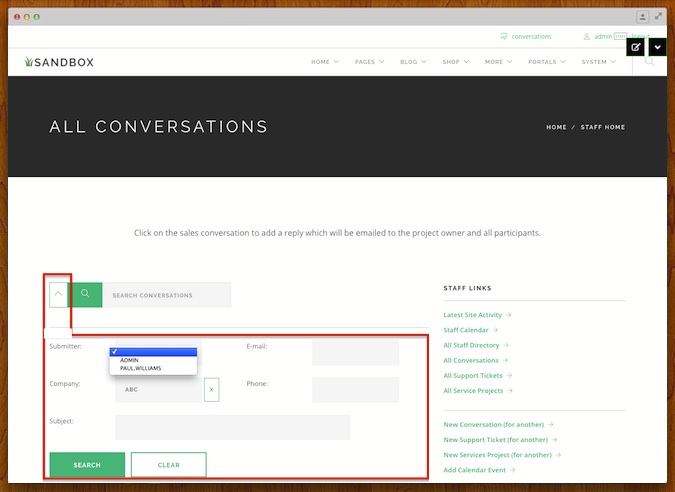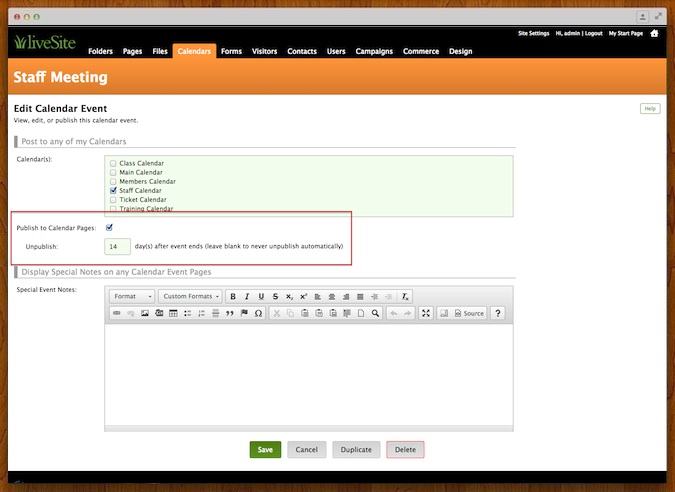 Automatic Unpublished Events
Calendar events can now be unpublished automatically, a certain number of days after the event ends, so that old events no longer appear on the calendar or in search results. This keeps your past calendar views clear so your site visitors are not confused by old and outdated event information.
Abandoned Cart Auto-Responders
Ever wanted to contact customers that start an order but never complete it to increase your sales? Now you can. Auto Campaigns now support a new 'Order Abandoned' action. Setting up a Campaign Profile with this action will send an email reminder with a link to the abandoned cart automatically to each prospective customer that creates an order but doesn't complete it within the time frame you specify.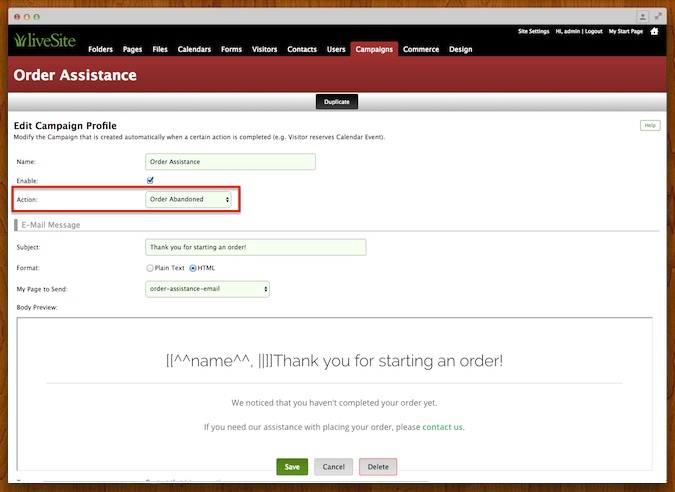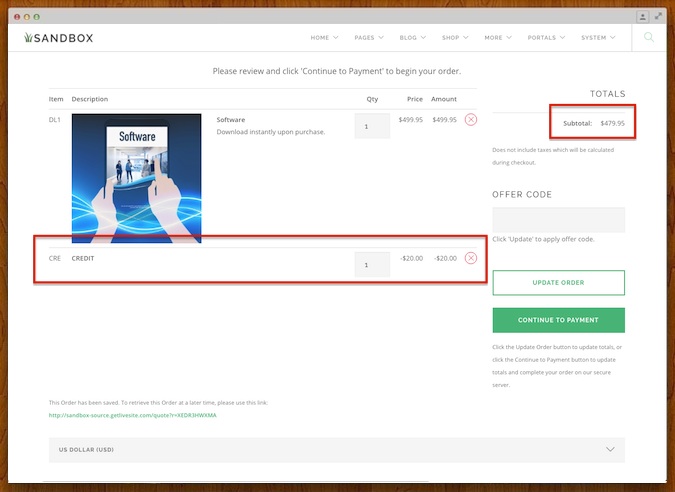 Negative-Priced Products
Products can now be priced below zero and will affect the order total. This provides a way for customers that need a credit applied to their order (say for the return a deposit, rebate, or other credit they have earned from a previous purchase) which needs to be reflected as a line item on the order. Just creating an offer discount is not sufficient for accounting purposes.
Negative pricing can also be useful for creating a bundled product and giving customers the option of removing items from the bundle by adding negative priced products to their order, thus lowering the order total. This is considered a form of up-selling since more customers will typically order the entire bundle than remove items from it.
Other Improvements
SEO
Now for all circumstances, liveSite returns a 404 response code when a URL is requested that does not exist. This technique is considered a 'best practice' for search engine optimization.
Page Designer
We improved the performance of the Page Designer, making the processes of import site designs, editing HTML, code files, adding content, and previewing pages on different devices faster and easier. The Page Designer offers the ultimate in convenience for web designers that need to do everything from within a single web browser window.
Code Areas
We added more colorization and validation to areas where HTML markup is edited to make it easier for web designer to inspect and find invalid code. As part of the effort, we improved Form List View / Form Item View Pages, moving the Header & Footer markup areas from the Page Properties into the Layout areas. We also did this for the Code fields within Products & Product Groups.
Site Design Imports
Site Design Import now allows web designers the option to replace files without changing the original file name. This is useful when new code files need to be uploaded, without the need to touch any HTML that references the files. liveSite will always backup any replaced files so nothing is ever lost.
Recipient Level Offers
Offers can now be applied to each individual recipient in the shopping cart, not just applied to all recipients in the shopping cart. So, for example, you can now set up an offer like "Get free shipping for each recipient that contains $100 or more".
Promote On Keyword
In combination with the Advanced Site Search feature, the Promote On Keyword feature allows you to promote specific pages to the top of the site search results, similar to how Google places paid ads at the top of their results. We enhanced this feature by adding support for multiple keywords. This is necessary if a site visitor is unsure of exact search term. For example, searching for "seminar" instead of "conference" might no produce the desired results. Adding multiple keywords like "seminar, conference, event" to an item can help the site visitors find what they are looking for.
Another way this is useful is for controlling the relevancy (e.g. the ranking) of the content item within the site search results. This is more critical for larger sites that need to optimize the search experience for their site visitors based on a more subjective approach. For example, you might want calendar events displayed before blog postings in the search results if a search term contains "event".
Lastly, we added a new 'promote-on-keyword' CSS class you can place around any content (including Calendars, Events, Form List Views, Photo Galleries, etc) so any content on the site can be included and promoted to shape the site search results.
Post-Order Workflow
To facilitate workflow upon purchase of a Product, liveSite can now:
Create or update Submitted Form data and/or add a Comment to an existing Form Item View for *each* quantity of a Product.

Submitted Form data and Product Form data can now appear on any page emailed when a Product is ordered, and for each quantity of the Product that was ordered.

Any Custom Form Fields can now be used to find and update Submitted Form data, not just the Reference Code the customer might enter on a Product Form.
To understand the power of these new post-order workflow features working together, let's look at an example. Let's say you want to sell license keys online.
Start with a spreadsheet of unassigned license keys you wish to sell.

Create a Custom Form to hold the license keys and any associated data.

Use the Custom Form Import feature to populate its Submitted Form data with all the unassigned license key values from your spreadsheet.

Create a Product to sell the license keys and add the new workflow features mentioned above so that when a customer purchases one or more license keys on a single order, liveSite will find the necessary unassigned license keys from within your Submitted Form data, assign each license key to the customer, and e-mail each license key and any other information from the Submitted Form data and/or Product Form data to the customer.



Voila!

A totally automated self-service licensing application!
We hope you enjoy these new features and we look forward to your feedback.

Please add a comment below and let us know how we are doing!