Roman Catholic Diocese of Fort Worth
Associations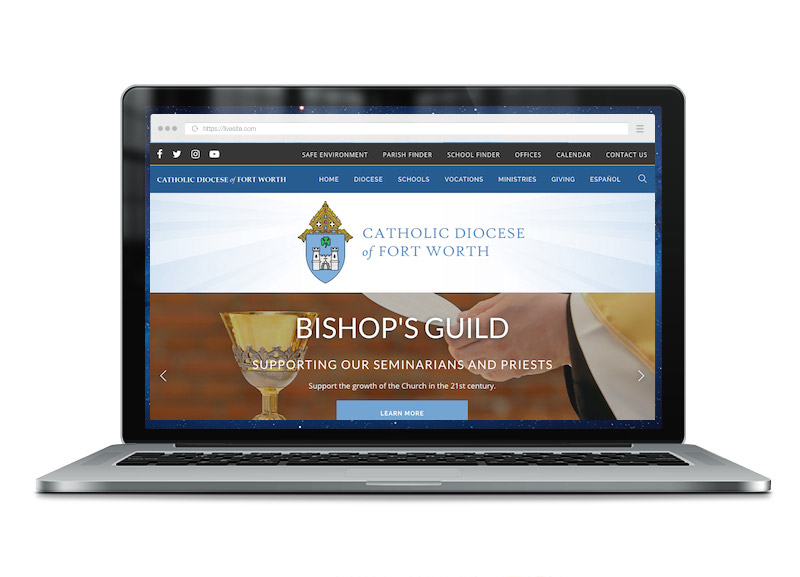 The Roman Catholic Diocese of Fort Worth has more than 560,000 Catholics in 97 parishes and missions, 20 schools, and served by 123 priests, 110 deacons, 24 sisters, and 5 brothers.
With a community this large, they needed a website that could disseminate news and event information quickly to not only their parishioners and the public, but also between parishes, schools, and clergy. They turned to liveSite to provide an single sign-on solution for their intricate internet, extranet, and intranet content management needs. With liveSite powerful access controls they were able to create calendars managed by each group, portals with classified ads so parishes and schools could swap unused equipment and resources, and private forums where clergy could discuss church business from their remote locations. liveSite took the place of their website platform, church and school finder mobile app, and their Microsoft SharePoint server, reducing their cost for these services by 95%.
The main site was so successful, they migrated and launched 3 additional liveSites for other ministries they oversee, further leveraging their website platform, components, and training. liveSite also powers the equally impressive Roman Catholic Diocese of Dallas.
liveSite is an incredible website platform and one we have relied on to manage communications with the public and our parishioners, ministries, schools, and churches.
Chris Kastner, Web Services