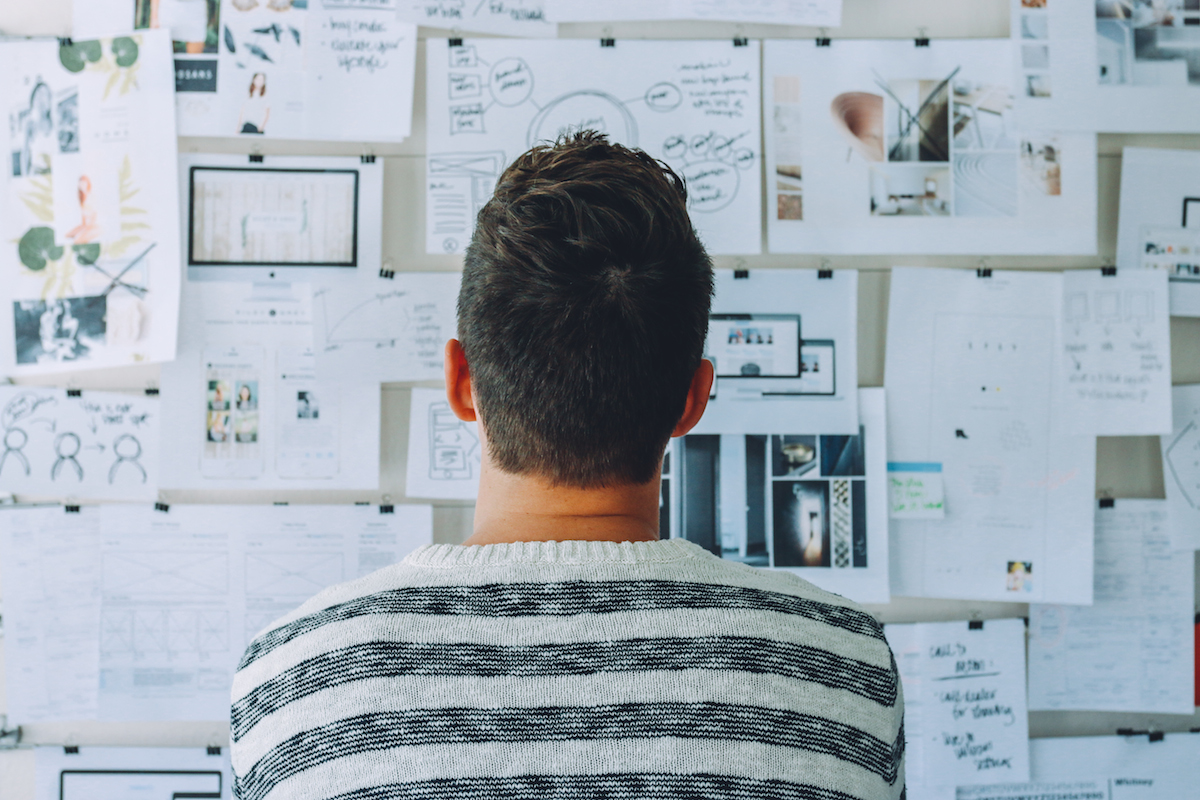 We are excited to announce liveSite v9!
Oct.9.2014 / Release / 1 Comments
We have been working tirelessly, since early in the year, making some major changes to the liveSite platform. After months of testing with some of our largest websites, liveSite v9 is now ready for you!
What's New
With liveSite v9, we took a step back to rework the very foundations of the software to improve the user experience for everyone that interacts with liveSite — no matter what device they may use.
There is a lot of talk about "responsive web design" these days, and for good reason. As more and more web devices enter the marketplace, your website must provide a good user experience for all. liveSite v9 makes this seamless by serving up fully-responsive web forms, calendars, blogs, forums, order forms, and even entire shopping processes using a single page design!
We added two new responsive design themes to liveSite that you can launch, customize, or just use as an example for your own creations. All 12 existing liveSite themes have been re-released as fully-responsive themes.
And to support the latest in web design and the popular responsive design frameworks, we have improved code editing and error checking, and Designer Regions and Common Regions can now be embedded inside other Regions.
Theme Preview Mode has also been supercharged so you can create a new responsive design for your current liveSite and test it on all your production web pages without the need for a separate development site or lengthy manual processes. It's now possible to launch a totally new design across your entire website at the click of a button!
Also included is a completely new Rich-Text Editor, inline editing, drag-n-drop file uploading, tablet-friendly code editing, and many other must-have features.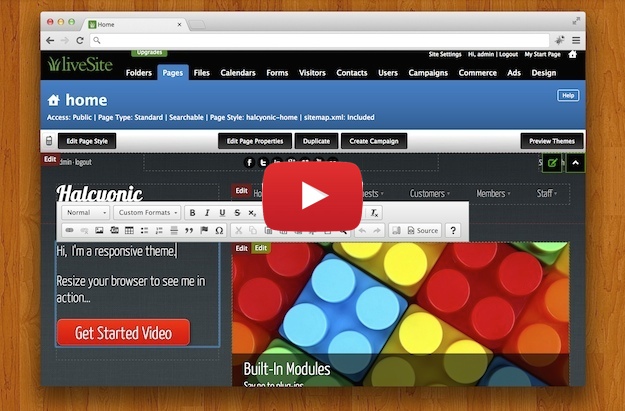 New Features
Here is a list of some of the most exciting additions to liveSite v9:
Responsive Design
Integrate any HTML / CSS / JS responsive design framework, design templates, and third-party markup into liveSite.
All Page Types are now fully-responsive including all System Regions, Menu Regions, and Ad Regions. It is no longer necessary to create a mobile version of your Page Styles, Menus or even Ad Regions!
New Responsive Custom Formats for adding responsiveness to your page content.
Full control of all media queries so breakpoints for responsive effects can be tuned to your specific needs.
Design Themes
Two New Responsive Design Themes included with every new liveSite install.
12 Original Themes re-released as fully-responsive.
A "Site Off" Design Theme is also included so you can put all or part of your site under construction while you make changes.
User Interface Improvements
Buttons and fields have been redesigned to be easier to read and easier to use on touch devices.
Action buttons are now "sticky" to make navigation faster and updates quick.
Inline Editing means you can edit multiple regions on a page at one time, with true WYSIWYG content styling.
Drag-n-Drop file uploads make uploading one or many files easier.
Edit your content on an iPad or other tablet with new mobile-friendly content and markup editing.
New Rich-Text Editor
Better features, layout, and performance for faster page editing.
Responsive, mobile-friendly makes it easy to edit website content on desktops or tablets.
Upload and embed files into page content in a single step.
New thumbnail browsing and searching makes embedding photos simple.
SEO Improvements
Short URLs for all page and file resources links (e.g. /my-page and /my-file.pdf instead of /pages/my-page and /files/my-file.pdf). For backward compatibility, any resource that includes /pages/... or /files/... will still function properly.
Pretty URLs are generated automatically for dynamic links to submitted form data to improve the user experience, sharing of links, and SEO ranking. Accessing a Form Item View is more user-friendly (e.g. /blog/my-actual-blog-article-title instead of /blog-article?r=1231231), removing the need to use reference codes to access submitted form data.
Submitted Form Title and Description fields can appear as the HTML title and meta description on Form Item View Pages.
Theme Preview Mode Improvements
Want to add a responsive site design to your old liveSite? Now you can with zero downtime!
Page Styles are now associated with Themes and specific Pages making site design makeovers a snap.
Switch all pages to "under construction" for all site visitors while you and your staff make design and content changes.
Now you can combine Adaptive Design and Responsive Design in the same website.
Other Design Improvements
One-click "maintenance mode" to take the whole site or an area of the site offline for updates.
Designer/Common Regions can now be duplicated and converted back and forth for easier site development.
Common Regions, Page Regions, and other types of regions to be embedded in Designer Regions. Also, Designer Regions can now be embedded in other Designer Regions.
Custom Formats can now be added or removed from any Theme and can be applied to a specific HTML element.
Save-only buttons for easy CSS and JS file code editing and previewing without leaving the screen.
New mobile-friendly and responsive Code Editor with error checking for your HTML Page Styles, Source Code Views, and your CSS and JS files.
Custom CSS files can now be designated as Themes or supporting CSS files.
Secure mode (https://) can be disabled for a specific resource request in case you need to embed an insecure iframe into your otherwise secure site to prevent unnecessary browser warnings.
Advanced Styling shortcut was added to make CSS editing in the Theme Designer faster.
Viewer Filters
New Viewer Filter feature is now available for any Form List View to secure and limit the data displayed based on the Viewer's status as the Submitter, Watcher, or Form Editor of the data. Use this feature to create personalized views for your users so they can focus on their own postings or postings they are watching.
Improved Form Workflows
Set a different default value for any Custom Form Field based on a value passed in the URL to the Custom Form. Use this feature to automatically change the resulting Form List Views that the submitted form data appears on.
Hide any Custom Form Field based on a value passed in the URL to the Custom Form. Use this feature to prevent the submitter from changing the default value.
Improved Email Campaigns
New mail merge fields for First Name and Last Name to improve personalization of Email Campaign messages.
Updated email auto-responders to improve message delivery for providers using DMARC.
eGift Cards
Sell custom gift cards / gift certificates for any amount and have them emailed instantly upon purchase or delivered on a future date. Recipients can then redeem their gift amount for purchases on your site.
Improved E-commerce Workflows
Now when a Product is ordered, a Custom Form can be submitted automatically, a Comment can be added to any Page, a Form Item View can be reopened for Comments, or a submitted form data field can be updated.
Use any combination of these new features to create pay-as-you-go service applications or other post-purchase workflow applications.
How do I get it?
If you are hosting your liveSite with us, your liveSite will get the new software updates automatically as we roll it out across our servers over the next week. As always, these updates won't affect your current liveSite website's design or operation. Once you are running V9 you can begin to use the new features whenever it's convenient for you to enable them.
For our software subscription customers, liveSite v9 will be available for download as soon as we have verified that our hosting provider partners have the latest version working correctly on their servers. This usually takes a few weeks. You can sign up for our mailing list to receive updates.
Don't forget to check out the tutorial videos tagged with #v9 as we add them to the video library.