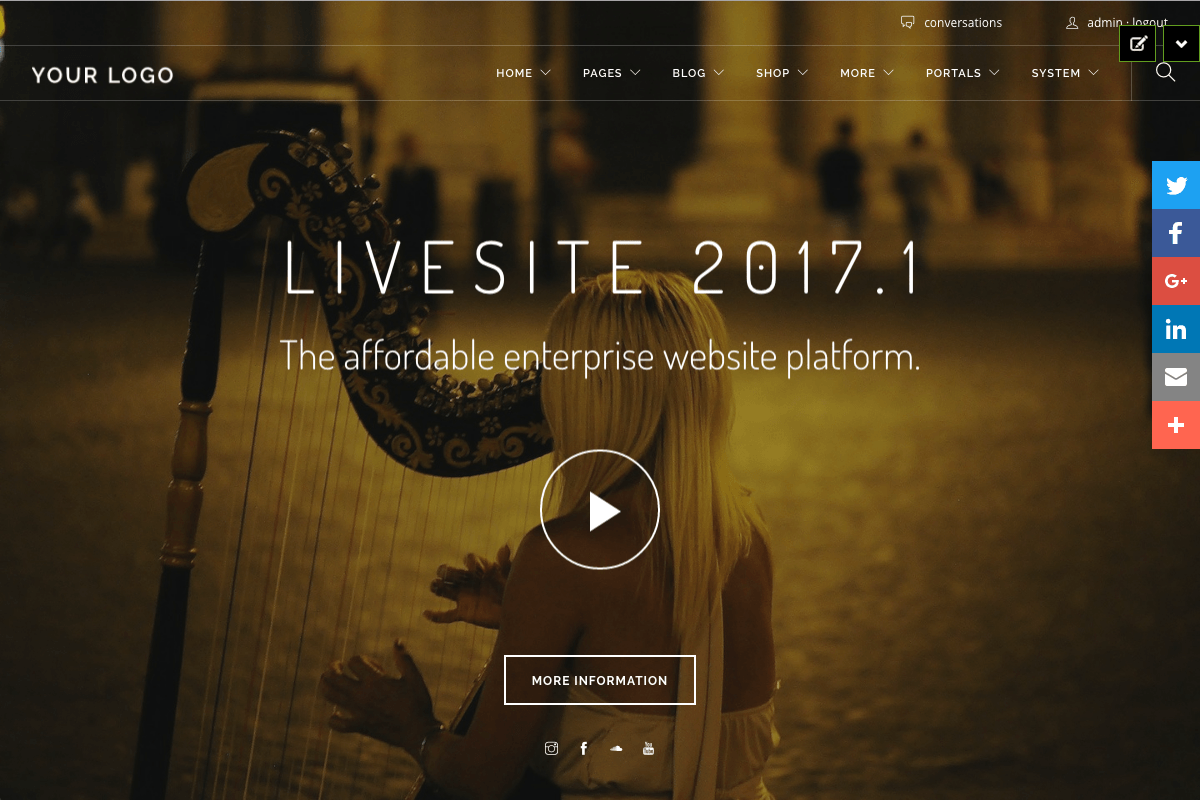 liveSite v2017.1 Released
Jan.27.2017 / New Features / 0 Comments
We are happy to announce that the latest version of liveSite is now running on our production servers! liveSite 2017.1 is faster than ever and includes loads of new features and improvements. liveSite continues to raise the bar on what you should expect from an enterprise website platform!
New Features
Image Optimization
The speed at which your web pages load impacts the usability and success of your website. liveSite now has a built in image optimization feature to quickly compress any image file without losing it's quality. You can optimize images one at a time, or select several images at a time. You can optimize images you already uploaded in a previous versions of liveSite too so you can see instant improvement of your existing website performance.
Real-Time Shipping Rates & Containers
liveSite can now request the shipping rates from UPS and USPS and present exact shipping fees instantly to your customers during checkout. This feature can help lower shipping costs for your customers which in turn will improve conversions as well as help you manage your shipping costs more closely.
Containers are used to ship more than one product for delivery to a recipient. Containers are used to lower the cost of shipping and handling by organizing multiple products in the same shipping Container.
Protected Shipping Methods
If you handle catalog orders by phone, fax, or postal mail, your internal sales reps may need shipping methods that can only be seen and selected by them so they can submit orders on behalf of your offline customers. This allows you to use real-time rates for your online customers and predefined shipping rates for your mail order customers. Protected Shipping Methods can also be used to submit special orders that require unique shipping methods that you may not want all customers to have access too.
Seasonal Catalogs
liveSite can now be setup to manage seasonal catalogs. For many gift-giving shopping sites, it's important to have the ability to quickly enable and disable catalogs, product groups, and even individual products so customers and phone order reps all have real-time access to the currently available products for purchase. Product Groups and Products can now be quickly enabled and disabled to make this process easier throughout the year.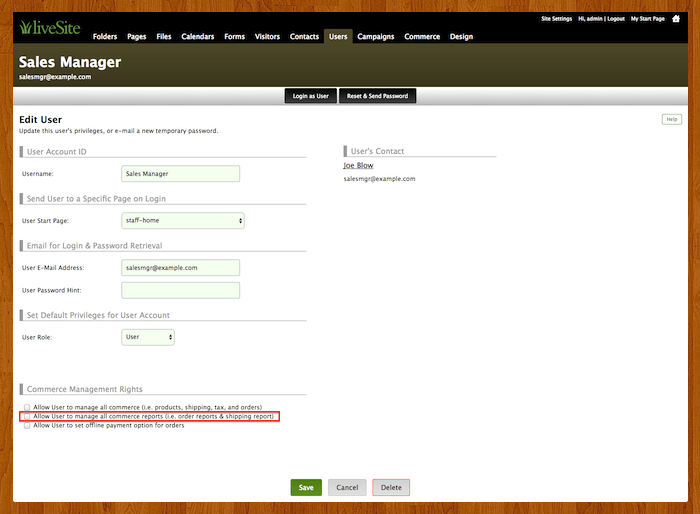 Commerce Management Improvements
Commerce Managers can now be assigned privileges to only view Order Reports and the Shipping Report without access to change Products, Offers, or other Commerce features. This is ideal for your sales and management teams that want real-time information on order data and shipments but don't want to accidentally mess up your online store presentation.
Starter Theme Updates
We have improved the default starter theme that comes with each new liveSite. We have separated the fonts and colors for menus, buttons, headings, and text so you can mix and match them to created thousands of variations of the default theme quickly with little effort.
Page Style Collections
Page Style Collections now can control Form List View / Form Item View Page Layouts. Now different View Layouts can be assigned to the Active Theme and the Previewed Theme at the same time. This allows Designers to redesign Form List / Form Item View Pages without affecting the original production pages.
Designer Region Improvements
HTML head content can now be inherited by your Page Styles by including it in a Designer Region instead of directly in all Page Styles. Previously, some liveSite features would not work and JavaScript errors would occur. Now you can change your HTML head content in a single location as you develop your website.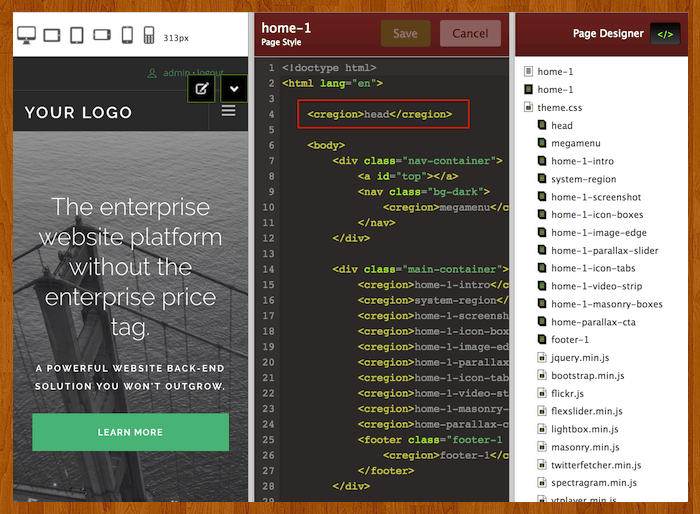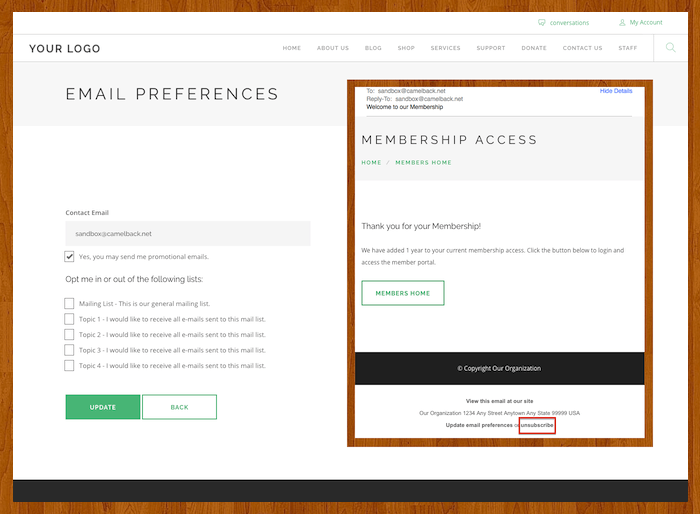 Email Campaign Improvements
We updated the email sending features of liveSite to improve deliverability of your email campaigns. In addition, your email recipients don't have to login to update their email settings, even if they are already a user. liveSite also includes an "Unsubscribe" link to clearly help recipients opt-out of your mailing lists.
SEO Improvements
Google Universal Analytics is now embedded into every liveSite page. Universal Analytics library introduces a set of features that change the way data is collected and organized in your Analytics account, so you can get a better understanding of how users interact with your liveSite content.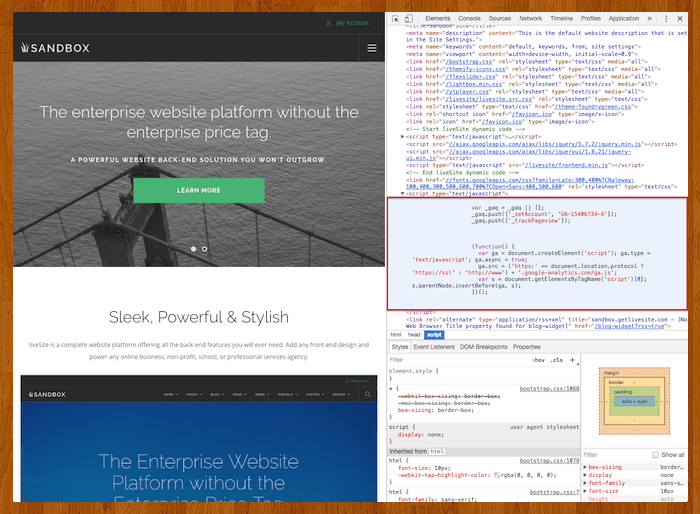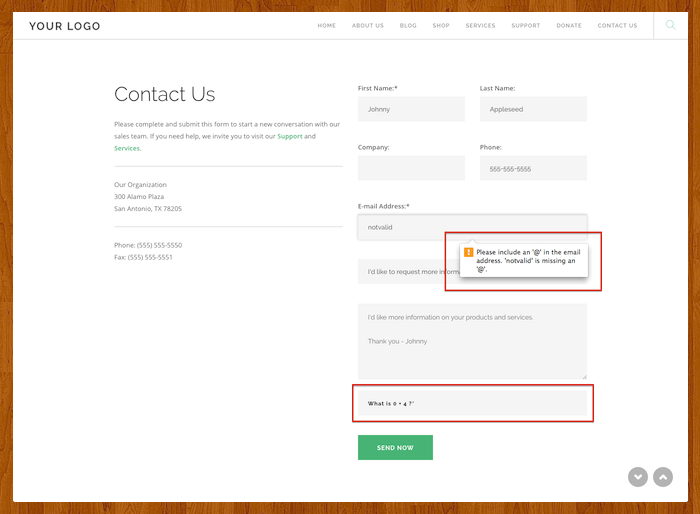 UI Improvements
liveSite now uses your browser's build in features to validate form fields for a better user experience for your site visitors. The built-in CAPTCHA feature has also been simplified to make it easier for your site visitors to submit forms which will lead to better conversions.
Other Improvements
Help Docs
liveSite context-sensitive help is now integrated into livesite.com so it's easier for you to read, search, and browse on any device. Each new version of changes are now also annotated.
Performance
We improved the overall performance of liveSite as we have been adding features and this release is the fastest liveSite version yet.
Site Log
The Site Log has been expanded to show more details regarding liveSite processes including Email Campaigns, Payment Processing, and Shipping Containers.
We hope you enjoy these new features and we look forward to your feedback.
Please add a comment below and let us know how we are doing!