Aug
04

liveSite Hosting now running 2016.2
1 Comment(s) Add a Comment

We are happy to announce that the latest version of liveSite is now running on our production servers! liveSite 2016.2 is a continuation of our vision to provide an affordable, cloud-based, hassle-free website platform that web professionals can use to build, deploy, and manage beautiful, responsive, and powerful enterprise-ready websites.
As part of this vision, almost a year ago, we set out to completely separate the front-end HTML markup from the back-end application functionality to give web designers total freedom to style, position, and even hide application-level markup without the need to understand application or database programming.
The result is the creation of a new component in liveSite called 'Custom Layouts'. Custom Layouts provide total control over the presentation of liveSite's powerful application layer!
New Features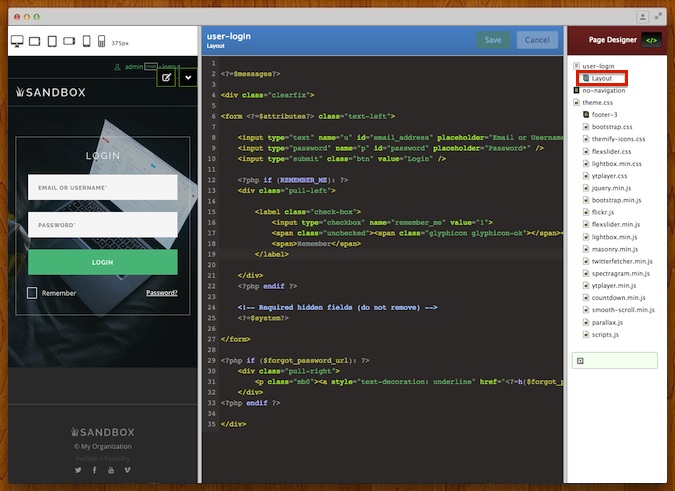 Custom Layouts
Custom Layouts provide access to the HTML markup of the core liveSite functionality within each web page. Custom Layouts are unique to each page based on the page's interactive features (Page Type). Want to rearrange your shopping cart page? Want to create multi-column custom forms? Want to customize your user registration page? Want to use your favorite Javascript plug-in for your photo galleries? Now you can! It amazing the freedom Custom Layouts provide web designers!
New Starter Site
To show-off the power of Custom Layouts, each new liveSite now comes complete with a fully-functional liveSite website — ready to go — so you don't have to start from scratch. This beautiful and amazing responsive site template includes a fully-customizable site theme, over 100 free stock photos, and hundreds of design elements and content blocks you can mix and match to create your own unique website. The design overlays over 30 common website applications across 180 page layouts you can also customize to fit your specific requirements. You can be up and running quickly simply by adding your own content to the pages you need and hiding the pages you don't need!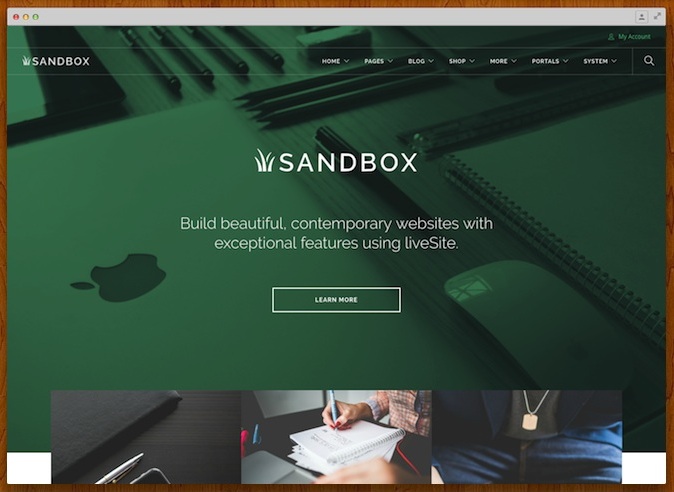 New Sandbox Site
A new Sandbox Site was created from the new Fast-Start Site so you can test and evaluate liveSite features and configurations without messing around with your own production liveSite. If you do accidentally change or delete something you need later, you can always go to the Sandbox Site and grab it.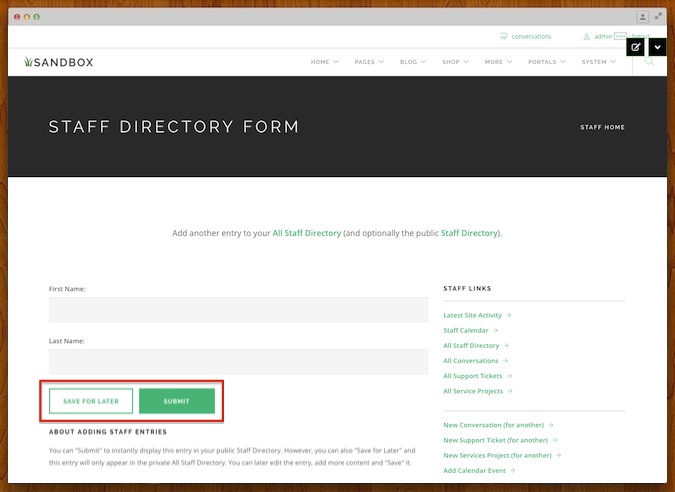 'Save for Later' Forms
Now Custom Forms can be saved without being submitted. The submitter can return to the site at a later time to complete and submit the Custom Form. This is ideal for forms which cannot be completed and submitted during a single website visit. And to complete this feature, any workflow set up for the Custom Form will be triggered only after the form is eventually submitted.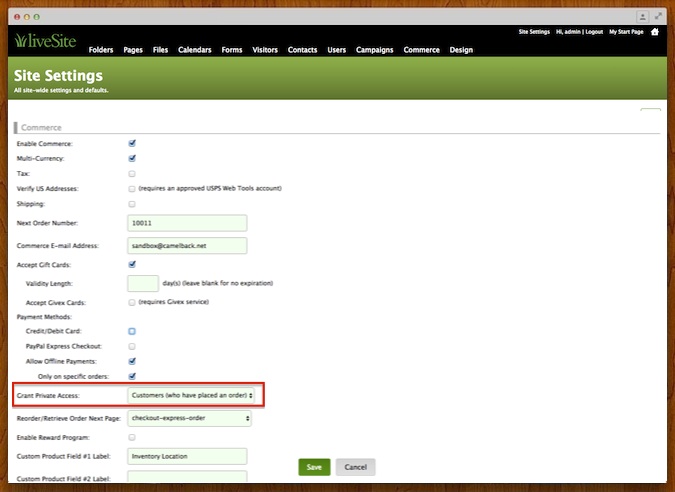 Customer-Only Portal
A new Site Setting grants access to a Private Folder whenever an Order is placed. This new setting provides a way for you to create a customer-only portal where you might place your customer support ticket app or other pages and files that you only want your paying customers to have access too. To provide instant access to this area upon purchase, the auto-registration feature has been updated to automatically login new users when their account is created. Together, these features make it seamless for a site visitor to place an order and go directly to your customer portal for downloads, protected information, or customer support.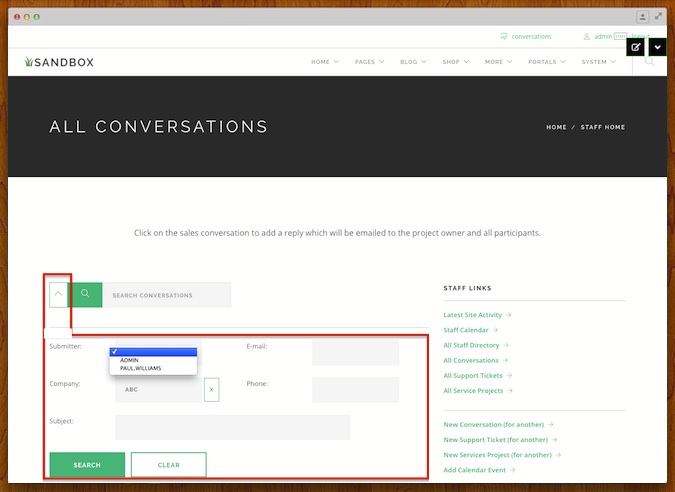 Dynamic Search Fields
The Advanced Search feature of Form List Views is a popular way to assist site visitors with searching data views. In the past, search fields were 'fill in the blank' fields offering little in terms of what data might be available. This method works fine if the search field is a known value, like say a zip code, but not as well if the site visitor is unsure of the data values available to them. Dynamic Search Fields allow these blank text fields to be replaced with a drop-down pick list of available values, providing site visitors with all the available values.
And Dynamic Search Fields also respond to changes made to other Dynamic Search Fields so selections are further refined for site visitors as they make selections. This results in a great improvement in the site visitor's experience and helps them to zero in on the relevant information they are searching for much faster.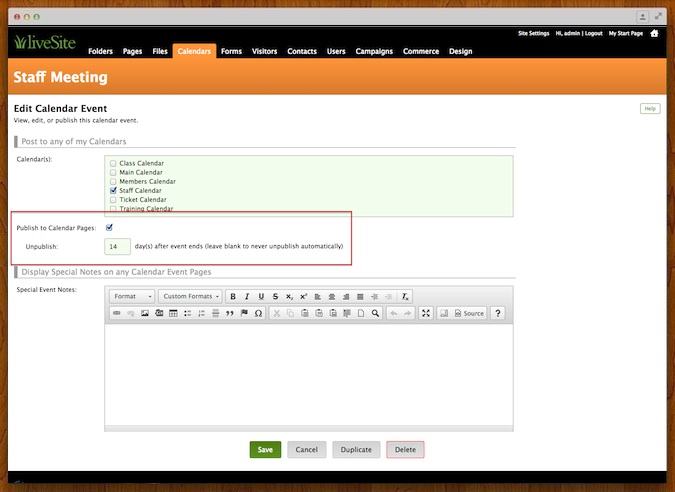 Automatic Unpublished Events
Calendar events can now be unpublished automatically, a certain number of days after the event ends, so that old events no longer appear on the calendar or in search results. This keeps your past calendar views clear so your site visitors are not confused by old and outdated event information.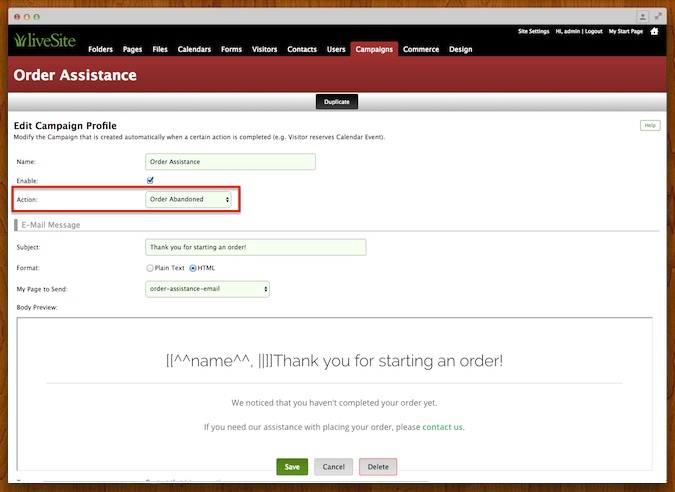 Abandoned Cart Auto-Responders
Ever wanted to contact customers that start an order but never complete it to increase your sales? Now you can. Auto Campaigns now support a new 'Order Abandoned' action. Setting up a Campaign Profile with this action will send an email reminder with a link to the abandoned cart automatically to each prospective customer that creates an order but doesn't complete it within the time frame you specify.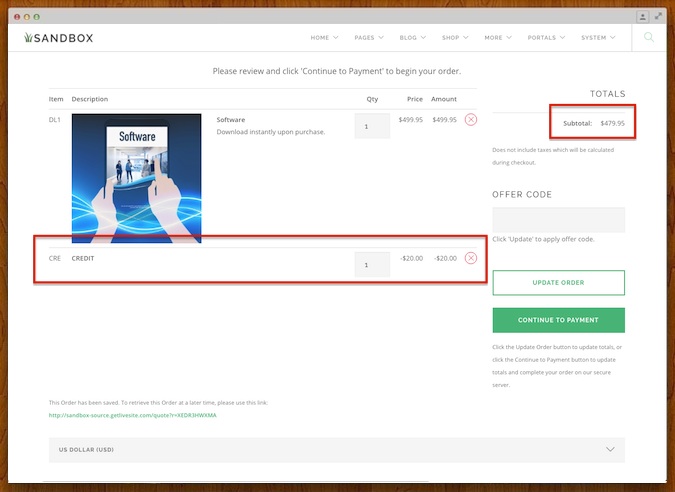 Negative-Priced Products
Products can now be priced below zero and will affect the order total. This provides a way for customers that need a credit applied to their order (say for the return a deposit, rebate, or other credit they have earned from a previous purchase) which needs to be reflected as a line item on the order. Just creating an offer discount is not sufficient for accounting purposes.
Negative pricing can also be useful for creating a bundled product and giving customers the option of removing items from the bundle by adding negative priced products to their order, thus lowering the order total. This is considered a form of up-selling since more customers will typically order the entire bundle than remove items from it.
Other Improvements
SEO
Now for all circumstances, liveSite returns a 404 response code when a URL is requested that does not exist. This technique is considered a 'best practice' for search engine optimization.
Page Designer
We improved the performance of the Page Designer, making the processes of import site designs, editing HTML, code files, adding content, and previewing pages on different devices faster and easier. The Page Designer offers the ultimate in convenience for web designers that need to do everything from within a single web browser window.
Code Areas
We added more colorization and validation to areas where HTML markup is edited to make it easier for web designer to inspect and find invalid code. As part of the effort, we improved Form List View / Form Item View Pages, moving the Header & Footer markup areas from the Page Properties into the Layout areas. We also did this for the Code fields within Products & Product Groups.
Site Design Imports
Site Design Import now allows web designers the option to replace files without changing the original file name. This is useful when new code files need to be uploaded, without the need to touch any HTML that references the files. liveSite will always backup any replaced files so nothing is ever lost.
Recipient Level Offers
Offers can now be applied to each individual recipient in the shopping cart, not just applied to all recipients in the shopping cart. So, for example, you can now set up an offer like "Get free shipping for each recipient that contains $100 or more".
Promote On Keyword
In combination with the Advanced Site Search feature, the Promote On Keyword feature allows you to promote specific pages to the top of the site search results, similar to how Google places paid ads at the top of their results. We enhanced this feature by adding support for multiple keywords. This is necessary if a site visitor is unsure of exact search term. For example, searching for "seminar" instead of "conference" might no produce the desired results. Adding multiple keywords like "seminar, conference, event" to an item can help the site visitors find what they are looking for.
Another way this is useful is for controlling the relevancy (e.g. the ranking) of the content item within the site search results. This is more critical for larger sites that need to optimize the search experience for their site visitors based on a more subjective approach. For example, you might want calendar events displayed before blog postings in the search results if a search term contains "event".
Lastly, we added a new 'promote-on-keyword' CSS class you can place around any content (including Calendars, Events, Form List Views, Photo Galleries, etc) so any content on the site can be included and promoted to shape the site search results.
Post-Order Workflow
To facilitate workflow upon purchase of a Product, liveSite can now:
Create or update Submitted Form data and/or add a Comment to an existing Form Item View for *each* quantity of a Product.

Submitted Form data and Product Form data can now appear on any page emailed when a Product is ordered, and for each quantity of the Product that was ordered.

Any Custom Form Fields can now be used to find and update Submitted Form data, not just the Reference Code the customer might enter on a Product Form.
To understand the power of these new post-order workflow features working together, let's look at an example. Let's say you want to sell license keys online.
Start with a spreadsheet of unassigned license keys you wish to sell.

Create a Custom Form to hold the license keys and any associated data.

Use the Custom Form Import feature to populate its Submitted Form data with all the unassigned license key values from your spreadsheet.

Create a Product to sell the license keys and add the new workflow features mentioned above so that when a customer purchases one or more license keys on a single order, liveSite will find the necessary unassigned license keys from within your Submitted Form data, assign each license key to the customer, and e-mail each license key and any other information from the Submitted Form data and/or Product Form data to the customer.



Voila!

A totally automated self-service licensing application!
We hope you enjoy these new features and we look forward to your feedback.
Please add a comment below and let us know how we are doing!
1 Comment(s) Add a Comment

Jan
29

liveSite Hosting now running 2016.1
2 Comment(s) Add a Comment

We are happy to announce that all liveSite Hosting Plan customers are now running liveSite version 2016.1!
In 2016, as we begin the transition to faster software release cycles and a hosted-only solution, this software version marks our departure from supporting two releases: one for our hassle-free hosted liveSite customers, and one for those that have to struggle with hosting liveSite in their own unreliable web hosting providers. :(
Also as part of this transition to a more traditional SaaS provider, we have also adopted a new software versioning scheme since we have grown to realize that simply using a number like "Version 9.2" doesn't really tell you much about how recently the software was released. Most software users don't really care about versions in general, they just want to be assured the software is updated as soon as possible and they have access to the latest features and fixes. So for that reason, we are simply using the year of the release followed by a simple point system. Easy as dirt.
To focus on delivering the best hassle-free website platform for mission-critical websites, we will no longer be releasing a free version of our liveSite software. However, we will continue to offer our on-premise support plans for those enterprise customers that need us to keep their liveSite software updated and running smoothly within their own data centers.
If you are currently hosting liveSite on your own web host, we don't want to leave you behind! For a limited time, we are offering to back up and move your liveSite to our world-class liveSite hosting infrastructure and upgrade it to the latest version for free! Click here for all the details.
New Features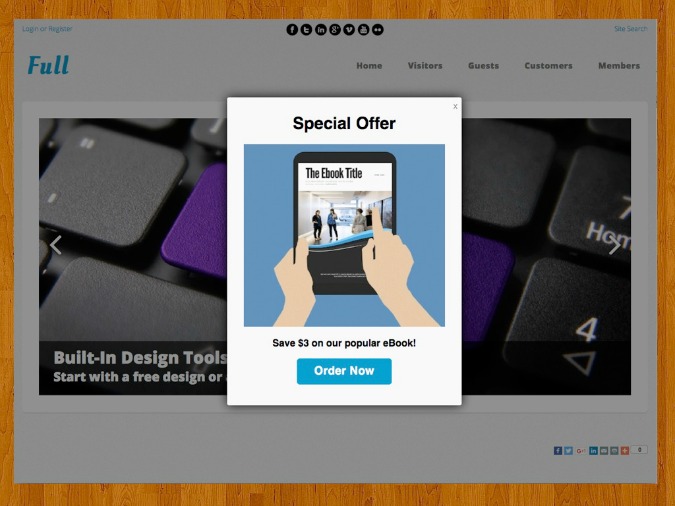 Auto Dialogs
Add pop up dialog windows to your website to promote special offers, fundraising drives, events, post-order surveys, and any other time-sensitive information that is important for your site visitors. Auto Dialogs can be setup to display on one or more pages of your site, and you can set how often each site visitors sees the dialog window. You can also now add embedded videos to your dialog window content that will gracefully "break out" of the dialog if viewed in full screen mode.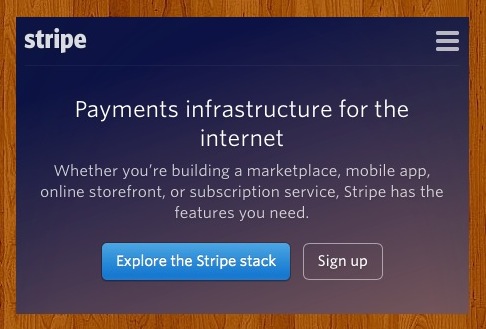 Stripe Support
Stripe, a popular e-commerce gateway with easy setup and 'pay-as-you-go' pricing, is now seamlessly integrated into all liveSite Commerce features, providing organizations with a quick way to begin taking order, donations, and any other type of payment online.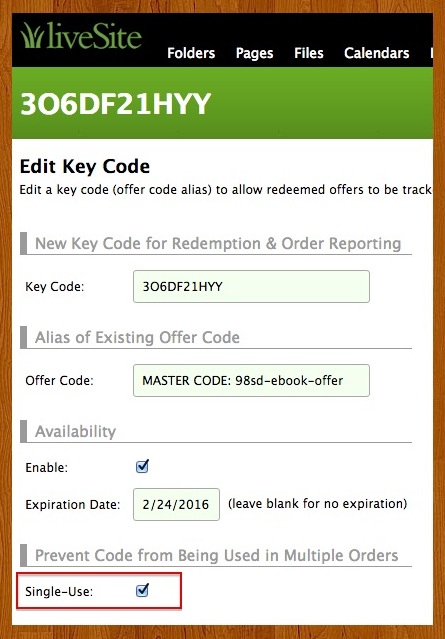 Single-Use Offers
With the new Single-Use Key Code feature, you can create "one-time" offers so each offer code can only be used once by a single customer. Now you can safely share unique discounts on your products and services with specific prospects without the fear of abuse. These key codes can also be generated and emailed automatically using the new Grant Offer feature.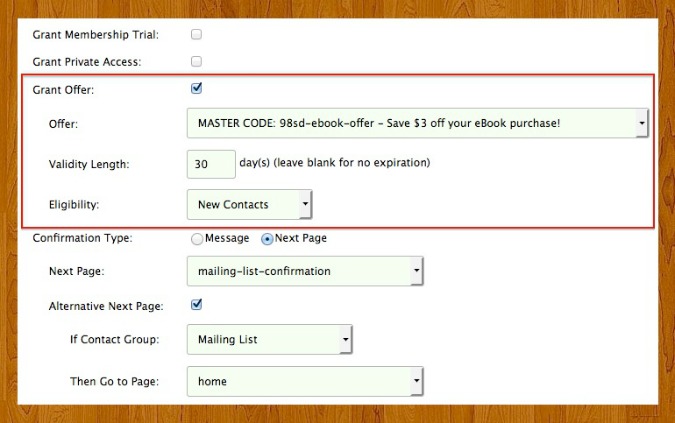 Grant Offer Feature
Grant Offer is a new group of Custom Form Properties that will generate personalized offer codes and emailed them to prospects whenever the custom form is submitted. This feature is ideal for enticing site visitors to complete a form in order to receive a discount. Now you can create automated offers such as "Sign up for our mailing list and receive 5% off your next order." And this feature is smart enough to allow you to specify "new customers only" so it doesn't generate offer codes for existing customers that don't need the incentive. Combine this with the new Auto Dialog feature to create pop up promotions that produce proven results!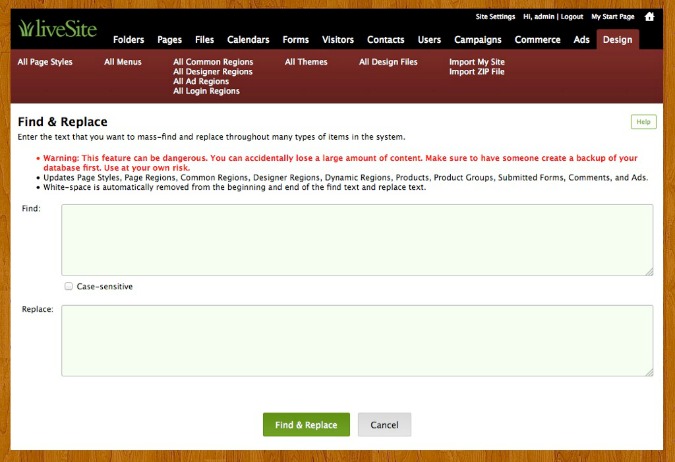 Find & Replace
A new find and replace feature has been added to allow administrators to do mass find and replace operations across the entire liveSite database. This feature is perfect for when you have a name change, or want to find and change all links to a page that you renamed. This feature is only available to liveSite users with "Administrator" or "Designer" role since it is very dangerous if used badly. There is no undo, although we do keep back ups of all our hosted liveSites if it comes to that.
To access this feature, simply login as a liveSite administrator and go to this URL: .../livesite/find_and_replace.php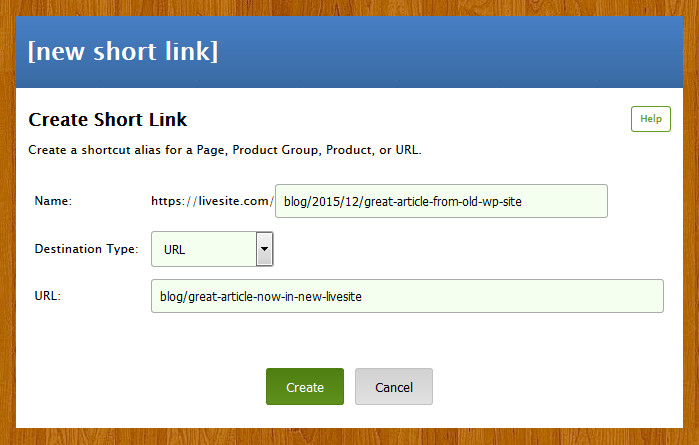 SEO
Updated the Short Link feature so that those that move from other website platforms to liveSite can maintain their existing search engine ranking and map old website URLs to new liveSite website URLs. Any short links that uses the URL destination type will now be declared as a 301 redirect (permanent), instead of a 302 redirect (temporary).

Comments
Comments are a great feature in liveSite and an essential building block to encourage interactions and create conversations between individuals and teams. However, "comment" isn't always the best label. Now you can change that label to fit each use, so for your conversations, support tickets, and forums you might label them as "replies", but your products and events as "reviews", and so on.
We also added a comment message area above the comment box so you can further explain what the comment box is for, if necessary. So for a product review, you might set the comment label to "Product Review" and the comment message to "If you own this product, please tell others what you think about it."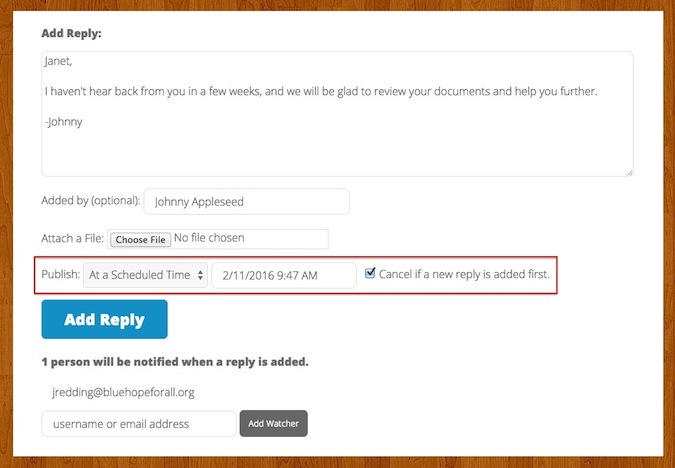 Scheduled Comments
Scheduled comments is a new feature that builds upon the success of "drip" marketing campaigns in which personalized email messages are automatically delivered to specific recipients over time improving communications. Imagine scheduling reminders days in advance that are delivered to participants at the right time, or a quick follow message delivered to a prospect or customer automatically, but only if you don't hear back from them within a reasonable time. Scheduled comments can be used anywhere you enable comments within liveSite and are a great way to keep you connected to your contacts with less effort.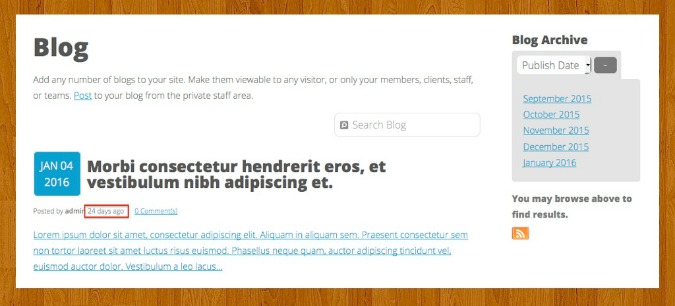 Relative Time
Relative time is a common technique liveSite uses to display a time/date value in a more human readable format. We have made some changes to how liveSite display relative time. liveSite no longer display "weeks ago" but instead display "days ago" for a longer period of time for better fidelity. liveSite also now calculates the number of "days ago" based on calendar days instead of a rolling 24 hour period. Minutes and hours are also now rounded to the nearest number instead of using the lowest amount. Confused? Don't worry. The point is that it's now even easier for your site visitors to understand when something was posted without even thinking about it.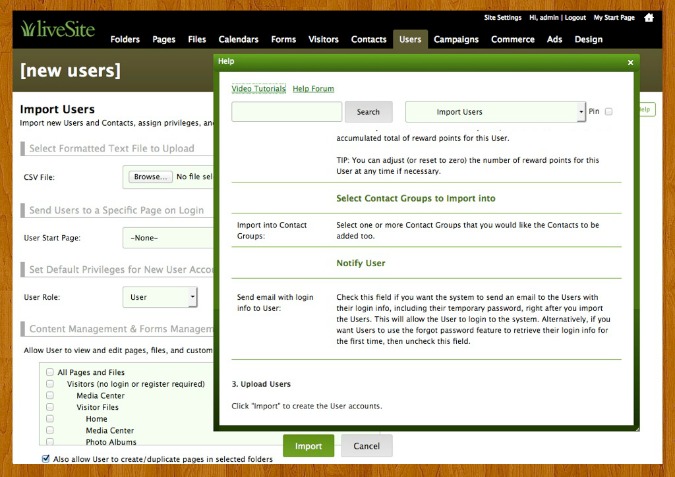 Import Users
When you import users, a contact for the user will now also be created automatically, and you can set any of the contact fields and even assign the contact to a contact group.
Usernames are also generated automatically using the first portion of the user's email address if a username is not supplied during the import.
You can also now specify whether or not you wish to notify imported users of their accounts.
These new user import features are useful for those migrating their customer base from another website platform into liveSite and want to complete the user migration before launching the website and notifying their customers.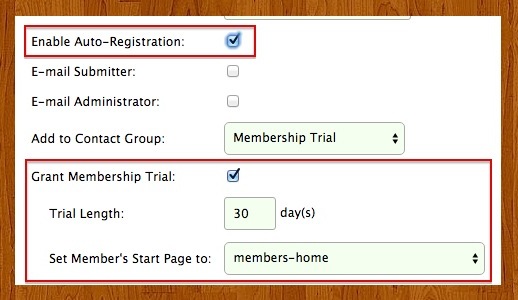 Auto Registration Workflow
Improvements in the auto-registration feature means that now site visitors don't have to register or login before they can access your custom forms that create membership trials or grant private access to site areas. Just enable auto-registration on your custom forms and save your prospects the unnecessary step of registering or logging in first.
Product Form Workflow
For some workflows, when an order is submitted, a product form can be used to create or update submitted form data. Typically a reference code is used to identify which submitted form needs to be updated. But until now, the designer had to create the reference code field within each product form which was a hassle. We have made this easier to manage by automatically enabling the product form and adding a reference code product form field when a product is created or imported.
Also, you can now prefill multiple product form fields during the checkout process.
Lastly, we have added the title form field of a submitted form into the product form, identified by the reference code field, in order to help the customer understand which submitted form that reference code is related to.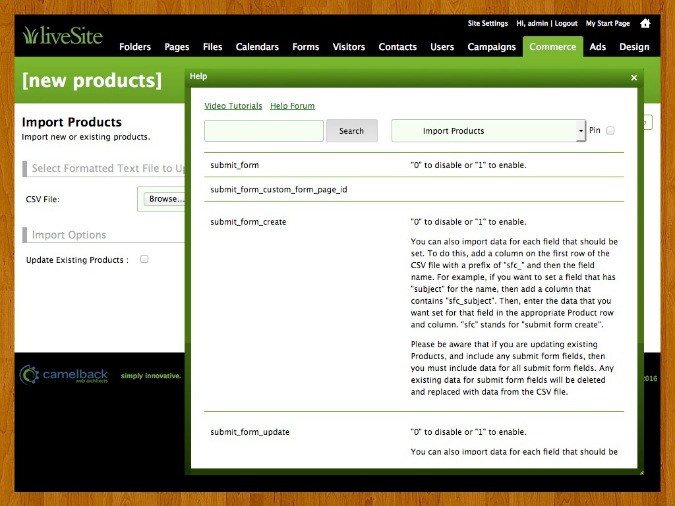 Product Import / Export
Product form features and add comment features can now be imported and exported with their associated products.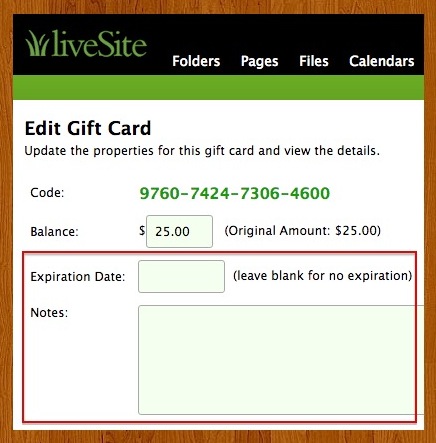 Gift Cards
Each gift card can now be expired for accounting purposes. You can set the default expiration in days from the purchase date in the Site Settings. The management of gift cards has been improved, including making notes regarding each gift card as necessary.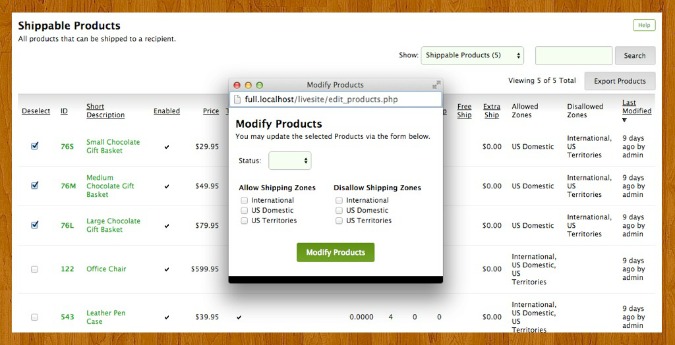 Shipping Zones
Now you can reassign shipping zones for multiple products at one time making quick work of changing shipping rules.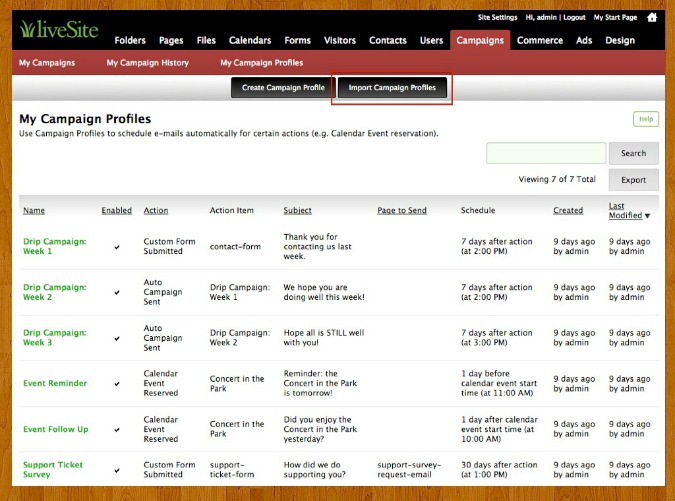 Campaign Profiles
Campaign Profiles, used to create automated email campaigns (drip campaigns) triggered by interactions within your website, can now be imported, exported, and duplicated making them easier to create and manage when dealing with a large number of action campaigns.
We hope you enjoy these new features and we look forward to your feedback.
Please add a comment below and let us know how we are doing!
2 Comment(s) Add a Comment

Oct
12

liveSite v9.1 Arrives
0 Comment(s) Add a Comment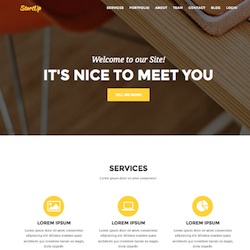 We are happy to announce the release of liveSite Version 9.1! We have packed almost a year's worth of software development and customer feedback into this point release. (We thought about calling it "Version 10", but what does a number mean these days anyway?).
liveSite v9.1 not only includes some amazing new features, but it begins to expose our long-term strategy of making liveSite "the" back-end platform for front-end web designers that need a secure, reliable, and scalable solution they can hand off to their clients to manage.
We have heard from many of you that absolutely love the power and flexibility of liveSite, but you wanted a better way to create and customize the popular responsive front-end design frameworks like Bootstrap. Realizing that the true strength of liveSite was in its integrated back-end functionality, we set out to create a better environment where any front-end design could be quickly created, tweaked, and deployed, all within liveSite. The result is the new built-in Page Designer.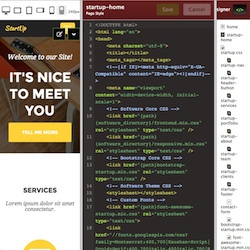 The new Page Designer is great for managing responsive front-end designs, but we didn't stop there. We also created a new website import feature that can scan your old website and convert it to a working site within your liveSite with a single click. That's right. It neatly creates all the web pages, page styles, photos, images, content, and code files and links them all together within your liveSite for you. You can also import any website template you purchase and download from a theme site. Once your site pages are imported, you can use the Page Designer to make short work of connecting it to liveSite's powerful back-end functionality.
If you are currently using liveSite to run your website, we didn't forget about you. We also improved our Theme Preview Mode, Pages, Page Styles, and Themes so you can literally overlay a completely new front-end design on top of your existing pages so you don't have to scrap your current liveSite or build a development site. When you are ready to launch your new design, you simply click activate and it is live across all your web pages instantly. Since your page URLs don't change, all your website functionality, workflows, and inbound links from search engines and social media will continue to work perfectly. No other website platform on the market today can do that!
Here's a rundown of the major features we packed into liveSite v9.1:

DESIGN FEATURES
New Website Templates & Themes
We have expanded our collection of complete website templates that are installed with each new liveSite. The original starter site template is now called "Full" and perfect for larger organizations that need to enable many of the features of liveSite. There is now a new smaller "Startup" site template that is perfect for small organizations that need to have a presence online and gather and manage website leads. For those that need a site focused on e-commerce catalog shopping, we created a new "Shopper" site template. Each of the new website templates include a fully-responsive front-end design to get you started but you can easily import your own designs and extend the functionality for your specific needs.
New Sandbox Sites
To mirror the new Website Templates & Themes, we created three new Sandbox Sites that you can use as a reference for your own liveSite build-out, examine how to create fully-responsive front-end designs, or simply try out new things before you apply them to your own liveSite.
HTML 5 and UTF-8 Support
HTML 5 and UTF-8 are now the de facto standards in front-end web design, so liveSite now fully supports these standards from beginning to end. Handling international language characters as well as custom font and icon sets are now supported.
Page Designer
Web designers can quickly edit their html, css, and js files, content, and preview their changes instantly across many devices. Manage any responsive front-end design from within liveSite without FTPing files back and forth or purchasing other site development tools. With liveSite and a modern browser, you'll have everything you need.
Website Import
Save tons of time by importing any web site into liveSite so you can quickly begin using the benefits of liveSite's powerful back-end features. liveSite's powerful new import feature will grab all the photos, code files, HTML, and content from any website, upload all the files, create the proper liveSite objects, and link them together for you.
Zip File Import
Since your new liveSite website design might be in the form of a template you download from a third-party theme site, liveSite also supports a website import from a single zip file. Even if not a design, the zip file import will quickly upload and unpack your compressed files too.
Page Region Collections
As you develop a new front-end design on top of your existing production liveSite web pages, your current page content may not fit nicely within your new design, or you may simply want to replace the existing page content with new content altogether. Page Region Collections have been added to all Custom Page Styles so you now have the freedom to redesign your page content alongside your new page designs.
Conditional Page Content
As a web designer, many times you'll need to hide or change sections of a web page based on each site visitor's level of access at the moment. <if> and <else> are powerful new tags that conditionally display or hide content, code, and even liveSite Regions depending upon who is viewing the page.
Keyboard Shortcuts
We added some keyboard shortcuts to the liveSite Control Panel to make it faster to move around and make updates. When viewing a page, Ctrl+D (or Command+D) will toggle Fullscreen Mode, Ctrl+E (or Command+E) will toggle Edit Mode, and Ctrl+G (or Command+G) will toggle Page Designer. In addition, if you are editing page regions or a control panel edit screen, you can also use Ctrl+S (or Command+S) to save the page or screen changes.

Although our focus for liveSite v9.1 was on front-end design capabilities, we also added dozens of other improvements. Here are some of the highlights:

COMMERCE FEATURES
Product Attributes
Need to provide product options to your customers as they shop your online store? Now you can. Say you sell t-shirts that are available in several sizes and colors. Any number of options can be presented to your customers as they add products to their shopping cart. Product prices, photos, and details are updated instantly as your customers make selections.
Product Catalog Management
There are times when you need a faster way to duplicate one or more Product Groups and/or Products in your catalog. You might want to duplicate a section of your catalog to create a similar section. You might want to back up your current catalog before making extensive changes, or you might want to swap out your entire catalog for another if your catalogs are seasonal in nature. In addition, you can now also mass-enable or disable products all at one time from the all products screen whenever that situation is necessary.
Custom Billing Fields
If you need your customers to enter additional billing information, new optional fields can be displayed whenever billing information is requested for an order. Users can also select whether or not they want their contact information updated when they place an order.
Variable Shipping Rates
You can now set variable base rates for any Shipping Method based on each recipient's subtotal amount. This feature allows you to reward customers that send more products to each recipient (free or reduced shipping on portions of a larger order).
Shipping Date Adjustment
Due to the nature of gift giving during major holidays, shipments tend to bunch up around specific departure dates, overloading docks and fulfillment teams. liveSite now has a unique feature that allows you to spread out shipment dates based on destination zip codes, while still making sure all packages arrive on time.
Shipping Report
Now your store managers can view the shipped products as well as unshipped products to get a better picture of past inventory levels and product sales trends.
ShipWorks
liveSite now updates its own order information with tracking numbers and shipped quantities from ShipWorks so your customers can login into liveSite and find the updated status of their orders.

FORMS & VIEWS FEATURES
Custom Forms
You can now automatically grant access to any protected area of your website (Private Folder) when a Custom Form is submitted. This opens new possibilities for developing multi-level membership sites that may not require purchases.
Improved Meta Data
Updated HTML meta data content-type content for Form List Views so Facebook and other social networking sites will always display text correctly and improve RSS reader support.
Attachment Listing
A new tag has been added to Form List/Item View pages so that all comment attachments can now be listed in one place. This is helpful if you have a Form List or Item View that has many comments and attachments and you want them all to be listed in a single location on your pages.
Calendars
We have improved Calendar Events so that they can now repeat daily or only certain days of the week. We also now allow you to hide the start and end times for calendar events on your calendar pages.

USER FEATURES
Auto-Registration
Want to increase your orders and custom form submissions by allowing your site visitors to skip the site registration/login step? You can set auto-registration for any Custom Form or Order Preview/Order Express Page and liveSite will determine if the submitter is already a user or not and either tie the submission to their user account, or create a new user account for them after the submission occurs.
Conditional Start Page
A specific User Start Page can now be set as a click-thru value. So as a web designer, you can specify where each user is redirected to within your site each time they login based on how they originally navigated to your registration page.
User Time Zones
Your users can now set their own personal time zone in their account profile, and all time and date information is converted and displayed to them in their own time zone.
How to get it?
Right now, all of our hosted liveSites have already been upgraded and later this week it will be posted to our download page and provided to our hosting provider partners.
You will find more details about these features by clicking on Help within your liveSite Control Panel. We will also be posting new tutorial videos in our Video Library.
We hope you enjoy the new version of liveSite! We are excited to see what you create with it! Feel free to share it on social media with your friends. We would love to hear from you so post your comments below!
Thank you,
Camelback Web Architects
simply innovative.
0 Comment(s) Add a Comment

Nov
20

Theme Preview Mode
0 Comment(s) Add a Comment

For the beginner to the advanced web designer, Theme Preview Mode in liveSite v9 is a great feature to help anyone create and test new page layouts or entirely new site designs across their production site pages without the need for a separate development site.
In past versions of liveSite, you would need to create many test pages to proof your new design. Then, when you were ready to launch your new Theme, you would have to manually change your Page Styles for all your production pages after you activated your new Theme. This manual process would have to completed before your entire liveSite was converted to the new look. If you were running a very active site, this took some time so there was a chance that your site visitors might see a mixture of the old and new design as they browsed your site.
In this new video, we'll explain how the new Theme Preview Mode works, and how easy it is now to test and activate new Page Styles and Themes across your entire website!
So if it's time to redesign your old and tired liveSite look, now you can roll out a brand new design across your entire website with a single click!
We hope you enjoy the new Theme Preview Mode. We'd love to hear from you so please add a comment with your feedback!
0 Comment(s) Add a Comment